BACK TRACKS & FOOTNOTES
Crescent Arts has always championed contemporary visual arts in the form of innovative and challenging work by emerging artists. This exhibition is the latest in our Footnotes series, through which we present new work by the artists who currently work from our studios. There are five artists in the exhibition and their work spans a range of media and disciplines including painting, drawing, printmaking, ceramics, digital media, performance, cyanotype and sculptural installation.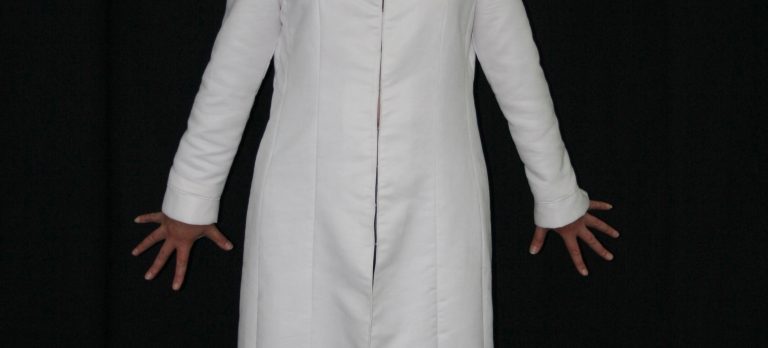 FOOTNOTES 4
New work from artists at Crescent Arts
CLAIRE  –  JUSTIN DL  –  RUTH MIEMCZYK  –  CHARLOTTE SALT  –  JANET WHITE
Sat 16 November – Sun 15 December
Fridays – Sundays 11.00am – 4.00pm and by appointment.
Admission is free.
Wed 20 November at 7.00pm
'In Conversation' – meet the artists at Crescent Arts.
Admission is free.
CLAIRE describes herself as an image-maker. Her practice encompasses image-making through collage with drawings and photos, sewing and knitting to make costume and writing for spoken word (to put visual images in the audiences' minds). This creative process of image-making, which draws upon autobiographical material and experiences, feeds into and is designed to generate live performance-based works that seek to elucidate states of mental and physical being.
JUSTIN DL presents "not-JDLVSPC", a series of photo-etchings of digitally manipulated images previously envisaged as paintings. These images seem to be at a fragile state of finality. Working through a process of old photograph to drawing, to painting of a drawing, to photograph of paintings, and then digitally manipulated image – the "climax" of the work seems uncertain. Their current state questions their purpose – arising from an ever-growing archive based on work made from  the archive, not the archive itself.

RUTH MIEMCZYK makes non-representational paintings, drawings and collages that reference each other, sometimes through a mimicking repetition and at other times by being divided or separated. These relationships are manifest in pairings or groupings of paintings and particularly in the diptych form, which dominates much of her current work. Ruth works on several closely related paintings simultaneously where the subject is the object and, through this concrete reality, looks to touch on a common resonance.

CHARLOTTE SALT is interested in processes and production as a way of exploring and understanding the connection we have to our environment. She combines a range of techniques and materials concerned with the physical processes of making, and exploring the relationship to the body as a precarious site. The artist works intuitively with materials, adopting an 'automatic' approach driven by the subconscious. Apparent contradictions surface in work that is slow and thoughtful in construction, yet expressive and impulsive in style.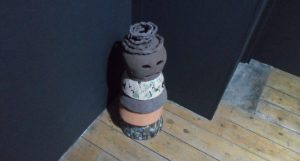 JANET WHITE works with found objects, plotting and mapping pathways, tracing the experience of her environment. The present, in the form of her activity and documentation, collides with the past (recent or otherwise) as embodied in fallen, discarded, tide-carried or unearthed materials retrieved and incorporated into her work. Over the last year she has been concerned with issues of waste, pollution and climate change. She is concerned with ways in which found objects or materials inform perceptions of time, movement and change through evident metamorphosis.
BACK TRACKS
posters, print & ephemera from Crescent Arts' archive.
Sat 28 September – Sun 27 October
Fridays – Sundays 11.00am – 4.00pm and by appointment.
Admission is free.
Our autumn exhibition programme continues to mark Crescent Arts' 40th anniversary looking back affectionately, while at the same time looking ahead with anticipation. We revisit some of the lively events that have taken place over Crescent Arts' remarkable life span, followed up with new work by artists based in our studios today.
Back Tracks traces Crescent Arts' 'life story' in the form of posters, print, audio-visual material and a cornucopia of fascinating ephemera retrieved from our extensive archive. From Art Day 1979 to The Arts Party Conference 2013, International Sculpture Biennales of the 1980s to Scarborough Winter School 2016, Back Tracks presents some of the highlights of Crescent Arts' exciting and ground-breaking work.