WORKSHOP: Children's Still life
A free drop in children's still life workshop with artist Nathan Wackett...

When: Saturday 13th August, 10 am- 12:pm
Where: Woodend Gallery, The Crescent Scarborough YO11 2PW
Cost: Free Event – Drop In
Workshop aimed at 5-10 year olds
We have an exciting upcoming children's workshop with local artist and teacher Nathan Wackett. In the session we will explore the gallery for inspiration, where we can pick up a free zines about the textures and colours, where we will be searching for all these things within the gallery; including some examples of artists and their work!
We will then move onto the main activity, drawing still life. There will be five still life set ups for the Children to explore,  flowers, vases, soft toys, fun colours and organic shapes… What can you discover?
About Nathan Wackett 
Nathan Wackett is a Scarborough based multimedia artist, muralist and zine enthusiast. His work focuses heavily on a DIY, accessible and visibly queer approach to creating, aiming to take the pretension out of fine art. Nathan is a fully qualified and DBS checked teacher as of 2022.
Adult supervision is required.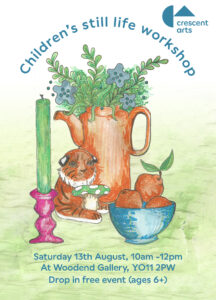 Tap with two fingers to activate / deactivate this map
Woodend Gallery, The Crescent, Scarborough, YO11 2PW