EXHIBITION: Map It Well
An exciting new map and resource to aid wellbeing made by a creative group in Scarborough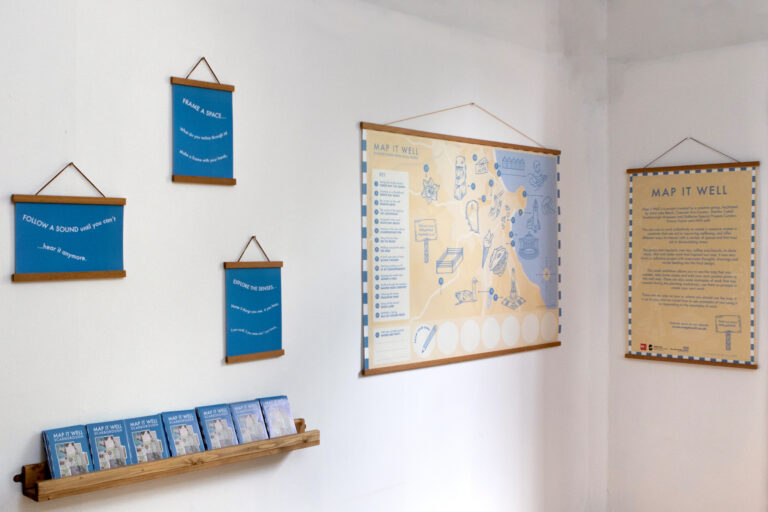 Physical Exhibition: Map It Well
When: 23rd April – 3rd July 2022
Times: 10am-5pm, Tues, Fri, Saturday and Sunday
Where: A Space to Be, Scarborough Art Gallery, The Crescent, YO112PW
Online Version: www.mapitwell.co.uk
Map It Well is a project created by a creative group, facilitated by artist Luke Beech, Crescent Arts Curator, Martha Cattell, Scarborough Museums Trust Special Projects Curator, Dorcas Taylor and NHS staff. The aim was to work collectively to create a resource rooted in creativity that can aid in improving wellbeing, and offer different ways to interact with a variety of spaces and that may aid in de-escalating stress.
The group met regularly over tea, coffee and biscuits, to share ideas, chat and make work that inspired our map. It was very much a collective project with everyones thoughts, drawings and words feeding into the final design.
A small in-person exhibition is being held over the summer to celebrate the launch of Map It Well at Scarborough Art Gallery, this will give you the opportunity to pick up copies of the map and view finder, add positive points to the map and see examples of work created in the lead up to the end map. Scarborough Zine Library have also curated a series of zines from their collection around wellbeing and mental health, that will be available to browse within the space.
If you are not able to visit the exhibition in-person you can also access the map via its dedicated website, by following this link where you can download copies and see some creative prompts: www.mapitwell.co.uk
There are no rules on how or where you should use the map, it is up to you, and we would love to see examples of you using it or responding to the examples of work. You can send these or any questions you may have to Martha on the email: info@crescentarts.co.uk or follow us on instagram: @mapitwell
A series of walkshops will accompany the map keep an eye on this website to find out more information about these sessions….
The project was supported by the NHS
Map designed and illustrated by Ellie Shipman
Website Designed by Lizz Brady
A Space to Be: (where the exhibition is being held): Is a new community space in Scarborough Art Gallery aiming to provide a warm welcome to visitors and community groups. It is a year-long pilot project and will support Scarborough Museums Trust to become a more democratic, inclusive and relevant space for everyone.
Access: The ground floor of the art gallery is step free, although the toilets and upstairs space are not. A fee of £3 is required for entry to the space, if this is a barrier to entrance, please contact: curator@crescentarts.co.uk
If you require the map in a different format, please also email Martha on the above email address.