Film Screening: Water Makes Us Wet: An Ecosexual Adventure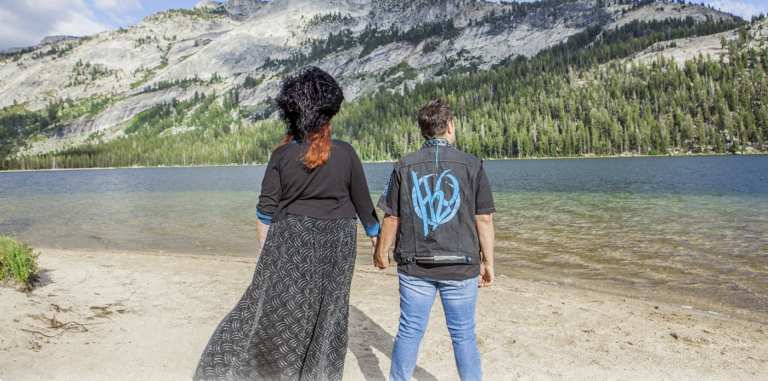 Film Screening
When: Friday 28th January, 6-8pm
Where: Woodend Gallery, The Crescent, Scarborough, YO11 2DF
Tickets: Tickets on a sliding scale
BOOK NOW
This screening is in response to the current exhibition, Queen Green by Susie Green currently on show at Woodend Gallery. The exhibition was partially inspired by the book 'Assuming An Eco-sexual position' by Annie Sprinkle and Beth Stephens.
Film Information
With a poetic blend of curiosity, humour, sensuality, and concern, this film chronicles the pleasures and politics of H2O from an ecosexual perspective. Travel with Annie, a former sex worker, Beth, a professor, and their dog Butch, in their E.A.R.T.H. Lab mobile unit, as they explore the role of water. Ecosexuality shifts the metaphor "Earth as Mother" to "Earth as Lover" to create a more reciprocal and empathetic relationship with the natural world. Along the way, Annie and Beth interact with a diverse range of folks including performance artists, biologists, water treatment plant workers, scholars, and others, climaxing in a shocking event that reaffirms the power of water, life, and the earth.
More information: https://watermakesuswet.ucsc.edu
Who is it for?
The film is aimed at 18+
There will be a small selection of drinks available by donation.
Where will it take place?
The screening will take place within the gallery space at Woodend Creative Space, YO11 2PW. The gallery is fully wheelchair accessible and disabled parking available, for more information about the venue follow this link: https://www.woodendcreative.co.uk
Online version: An online version of the film will be made available for those who are unable to attend the event in person.
To book tickets to this limited event click HERE!