LGBTQ+ COMMUNITY QUILT PATCH MAKING WORKSHOP with Hold It Up Collective from Leeds…
Come join us for our upcoming queer quilt patch making workshop with Hold It Up Collective from Leeds...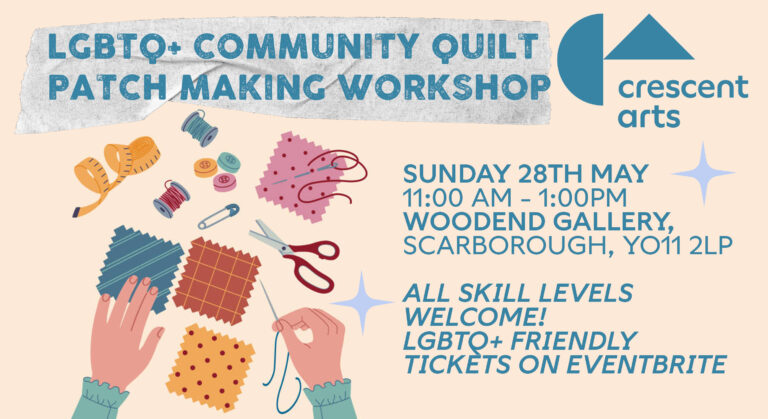 When: Sunday 28th May // 11:00 AM – 1:00 PM
Where: Woodend Gallery, Scarborough, YO11 2PW.
Click here to get your tickets!
As part of our upcoming exhibition as Crescent Arts in partnership with Scarborough Museums And Galleries, we're planning to include a community arts section which will debut artworks made in our community queer infoshops.
Quilts have a long history of being radical political statements, therefore we want to produce a quilt which shows the world what it's like to be queer in 21st century Scarborough. The quilt will be part of an upcoming exhibition in conjuncture with Scarborough Museums and Galleries
This wonderful patchmaking workshop will be facilitated by Hold It Up, a queer arts collective in Leeds consisting of Kristina Nenova, Frankie Mazzotta and Florian Hynam.
✦ // The Theme! //
Queer & Coastal! … What do you feel about being queer in Scarborough? What part of our Scarboroian world do you relate to? Do you have any memories in specific places in Scarborough that relate to your queer identity? Does the sea inspire you? The theme is entirely open, and we want you to be as abstract or literal as possible! We really don't mind what design you put on your square, as long as it's respectful and represents you!
About the workshop
We welcome all skill levels to the workshop, so if you have no history of making quilt patches don't worry! You don't have to have any!
Your patch will then be sewn together for the upcoming exhibition.
Accessibility: The Woodend venue is wheelchair accessible, with an accessible bathroom and changing facilities. Download our Woodend gallery accessibility guide: https://bit.ly/3NyP5td
Please email Joel@crescentarts.co.uk if you need more specific access information.
Covid Updates: Masks are still recommended to wear unless exempt, social distancing and regular hand sanitizing are both still strongly advised. For more information view our full Covid update here








Tap with two fingers to activate / deactivate this map
Woodend Gallery, The Crescent, Scarborough, YO11 2PW