NEW EXHIBITION // Garth Gratrix: Cheeky Felicia
Introducing our new exhibition to the gallery this September, a queer takeover from contemporary artist Garth Gratrix.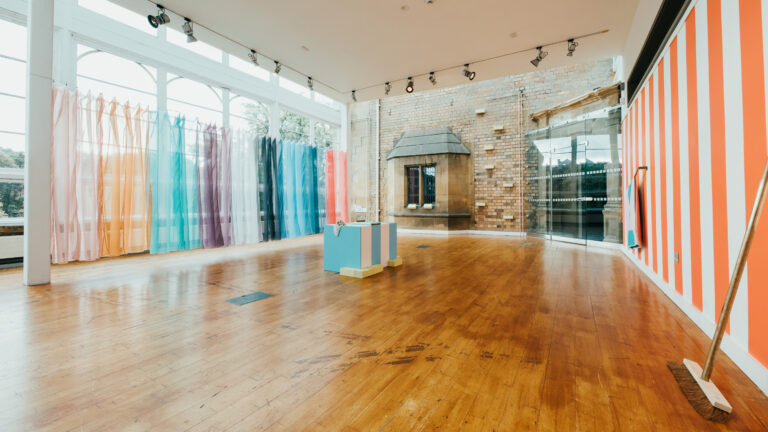 Where: Woodend Gallery, Scarborough, The Crescent, YO11 2PW
When: September 15th 2023 – January 7th 2024
Opening times: Monday – Saturday | 10am – 5pm
Cheeky Felicia is an installation of printed voile artworks. Each voile measures 81 inches, an accumulation of Gratrix's self-imposed rule of '9 inches apart, together, away, repeat'. This informed the scale in which to respond to William Etty's painting 'Man Lying face down', in the Scarborough Museums and Galleries archive.
Each artwork suspended in the space holds the same image of a derriere. The difference only lies in the colouring- also making up the title for each work.
When you strip things bare you allow them to take on the possibility for broader meaning. Gratrix's work is rooted in ideas of formal frolic. Navigating and experimenting with the queer lived experience, its clandestine nature and nomenclature.
Showing a section of the body, in neither portrait of landscape composition, abstracts it. The language and poetics of the works' titles inform a sense of personality, roleplay and community collaboration. The installation seeks to host a multi-faceted understanding of self. Equal parts cheeky, innocent, squeezed, charming, and so on. Gratrix is exploring the world around them, using their own rules, and deciding what to limit or liberate when taking up space with humility and generosity.
So which one do you feel you relate to? today? tomorrow? A future you? It's also OK to not know and breathe in the space between.
This exhibition partners with Always Been Here: a collaboration between Scarborough Museum and Galleries and Crescent Arts.
About the artist 
Garth Gratrix (b 1984, Lives and works in Blackpool) is a contemporary visual artist, curator and founding director of Abingdon Studios. Their work focuses on formal frolic and the queering of spaces as given or used. They use a self-imposed rubric of nine inches apart, together, away, repeat. Looking at relationships between singular and collective experience: the former, using close observation and intervention to inform compositions, measurements and structures; the latter, working with friends and collaborators to add to, complicate and enliven that basis.
Their broader output looks at queerness as embodied and shared networks of support, collaboration, friendship and cooperation, notwithstanding some codification. They have works in permanent collections in the UK and internationally.
With kind thanks to Helen Donnelly, Tim Knight and Jamie Burns for their support.
Cheeky Felicia is supported by Arts Council England, Scarborough Museums and Galleries, the National Lottery Heritage Fund and North Yorkshire County Council.






































Tap with two fingers to activate / deactivate this map
Woodend Gallery, Scarborough, North Yorkshire, YO11 2PW