NEW EXHIBITION // Kate Genever: We Are Our Own Promised Land.
We are excited to announce our first exhibition of 2023 at Woodend Gallery, 'We are our own promised land…' is a new site-specific installation by artist Kate Genever...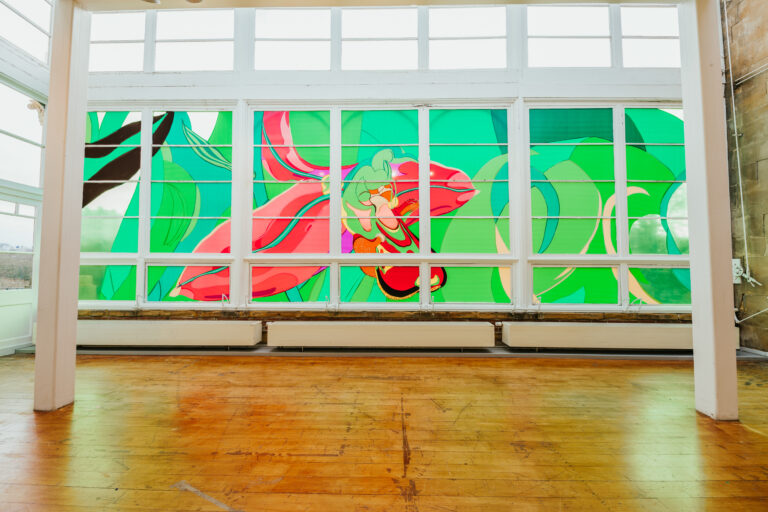 Exhibition: We Are Our Own Promised Land.
Kate Genever
When: 21st January – March 12th 2023
Where: Woodend Gallery, The Crescent, Scarborough, YO11 2PW
Opening Times: Monday – Saturday | 10am – 4pm
"We are our own promised land, " is an affirmation, reminding us of our own capacity and agency. It's also a statement that references landscapes – a paradise perhaps – where salvation and liberation are possible. The work concerns itself with the representation of an internal and external landscape at Woodend. A total work completed in the imagination but drawn from life, being influenced by Scarborough and its surroundings." 
– Kate Genever, 2023.
Kate's unique interaction with the space has been one of understanding its characteristics and history, Woodend Gallery is rooted in its past as a greenhouse, and within this, there is a subconscious draw to its green heritage, especially with many of the artists who have chosen to work in the space. 
Over an intensive week, Kate worked to transform the gallery windows into a 'stained glass' installation, also working alongside previous Crescent Arts exhibitor alumni from Scarborough Sixth Form College, who collaborated previously with Kate in the exhibition 'Hothouse' last year. 
The image Kate has chosen is that of a Bee Orchid, a wildflower most commonly found in the southern parts of the British Isles, however, the flower's numbers have been dwindling over recent years and are scarcer in the northern regions, as of 1985 the wildflower was declared Protected in Northern Ireland under the Wildlife Order. 
The characteristics of this installation are unique, in the sense that the artwork can be witnessed both inward and outward of the space. During the daytime, the window installation is illuminated from the inside out with natural lighting, and as the night rolls in the artwork is to be viewed from the outside, brought to life by the gallery lights.
With special thanks to Woodend Galleries and Studios, Tim Knight, Jamie Burns, Helen Donelly and the art and design students at Scarborough Sixth Form College. 
This project was created by Kate Genever and delivered by Crescent Arts.
Kindly supported by Scarborough Museums and Galleries, Arts Council England and Scarbororough Borough Council.
Access
The venue is wheelchair accessible, with an accessible bathroom and changing facilities. For more information about the venue head to the Woodend website: https://scarboroughmuseumsandgalleries.org.uk/visit/woodend-gallery-and-studios/ 
Large print captions are available from the front desk at Woodend, and download our accessible document about the space: https://bit.ly/3OlFuqE
Email Joel with any further questions: Joel@crescentarts.co.uk
Covid Updates:
Masks are still recommended to wear unless exempt, social distancing and regular hand sanitizing are both still strongly advised. For more information view our full Covid update here.




















Tap with two fingers to activate / deactivate this map
Woodend Gallery, The Crescent, Scarborough, YO11 2PW