POP-UP PRINT WEEKENDER
Crescent Arts, Scarborough Zine Library and York Zinefest brining you a series of pop up events, workshops and talks happening over one weekend!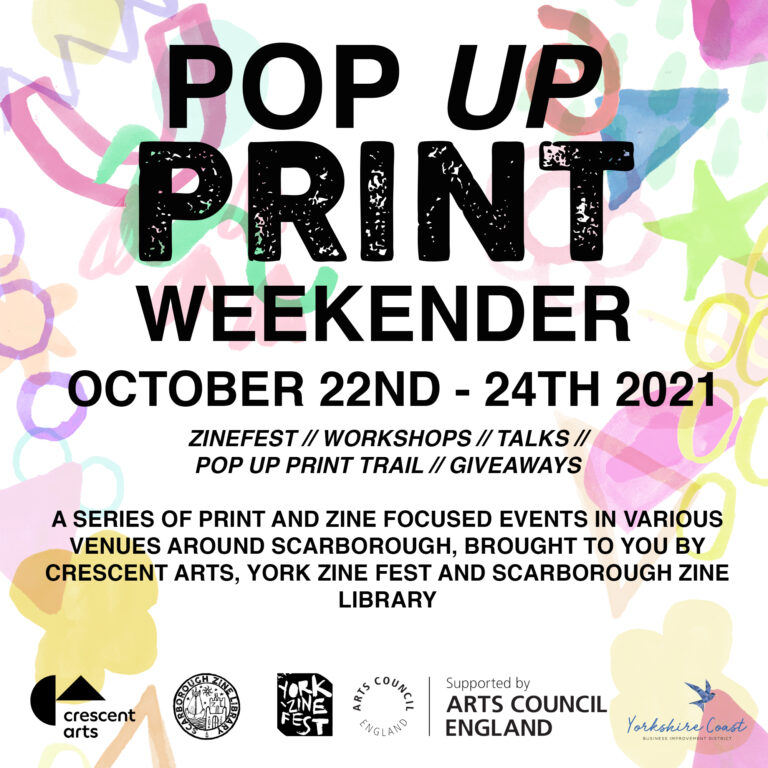 A series of print and zine focused events in various venues around Scarborough, brought to you by Crescent Arts, York Zinefest and Scarborough zine library! So here's what we have going on!
Friday 22nd
EVENT/ Scarborough's very first Zinefest @ Old Parcels Office Artspace from 6PM – 9PM. Refreshments provided by Yay Coffee, Live Music & FREE entry. 
All are welcome to drop in to this FREE event between 6-9pm there will be a variety of stall holders displaying there artwork/prints/zines for you to look at/buy. We will also have a live DJ set and refreshments provided by the amazing Yay Coffee. It takes places in the atmospheric location of the Old Parcels Office. No need to book just turn up!
Saturday 23rd
WORKSHOP/ Drop-In Zine Workshop with Scarborough Zine Library @ Scarborough Library from 10AM – 12. Free, suitable for ages 9+.
WORKSHOP/ Kids Trash Printmaking Workshop With print artist Jade Blood @ Woodend Creative Space from 1:30 – 3:00PM. Admission prices are available on a sliding scale. 
WORKSHOP/ Fire & Water Lino Print Workshop with printmaker Andi Dakin @ Old Parcels Office Artspace from 11:30 – 4:00PM
Sunday 24th
All Sundays events hosted at Woodend Creative Space.
TALK/ 11AM -12: Print as Activism with Black Lodge Press
TALK/ 12:30 – 1:30PM: Power of the Printed Word with Susan Kruse
TALK/ 2:30 – 4:00PM: Q&A Panel Discussion with Black Lodge Press, Susan Kruse & Scarborough Zine Library
To book workshops and talks head to our Website or to our Eventbrite Page by clicking BOOK NOW! Places are limited. 
To book Andi Dakins Linoprint workshop head to https://oldparcelsoffice.org