EXHIBITION OPENING! We Are Our Own Promised Land (FREE EVENT/DROP IN!)
Join us for the opening view of the new exhibition from Kate Genever...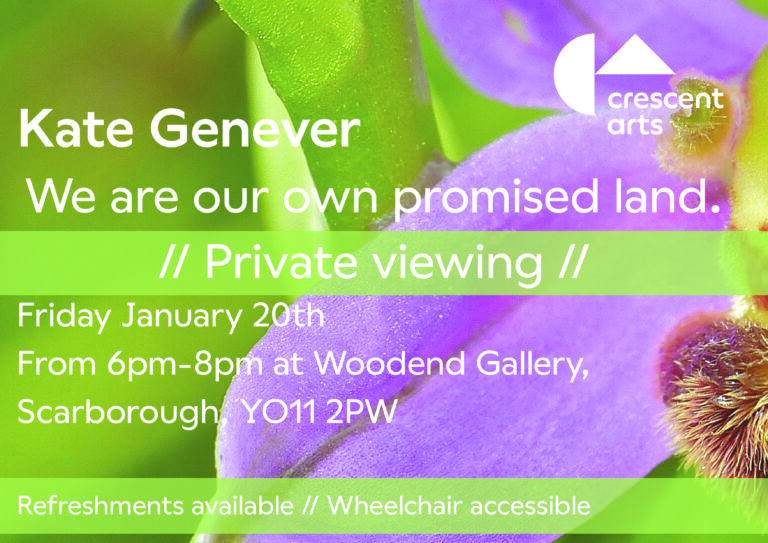 When: Friday 20th January 2023
Where: Woodend Gallery, Scarborough, YO11 2PW
Time: 6pm-8pm
Come join us for the opening of Kate Genevers' new exhibition at Woodend Gallery this Friday. Learn more about the exhibition here.
Or alternatively, come join us for a coffee morning to see the exhibition brought to life by the gallery's natural daylight! Refreshments will be provided but the cafe will also be open! Click here to learn more.
Refreshments will be provided, wheelchair accessible
Access
The venue is wheelchair accessible, with an accessible bathroom and changing facilities. For more information about the venue head to the Woodend website: https://www.woodendcreative.co.uk  Large print captions are available from the front desk at Woodend, and download our accessible document about the space: https://bit.ly/3OlFuqE
Email Joel with any further questions: Joel@crescentarts.co.uk
Covid Updates:
Masks are still recommended to wear unless exempt, social distancing and regular hand sanitizing are both still strongly advised. For more information view our full Covid update here.
Tap with two fingers to activate / deactivate this map
Woodend Gallery, The Crescent, Scarborough, YO11 2PW