Queen Green: Dalby Forest Exhibition
As part of our continued partnership with Forestry England, Susie Green's exhibition Queen Green will be extended for an additional period at Dalby Forest, scroll down to learn more...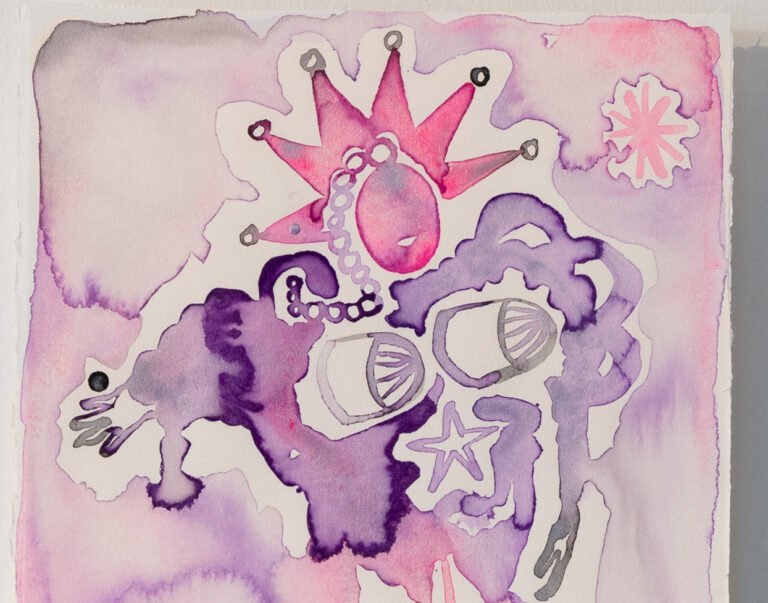 Susie Green: Queen Green at Dalby Forest
When: April 30 – June 12 2022
Where: The Courtyard, Dalby Forest Dr, Low Dalby, Pickering, YO18 7LT
Opening times: Monday – Sunday, 10am –  4pm. 
Queen Green is a presentation of new works by artist Susie Green inspired by her residency at Dalby Forest in the North Yorkshire Moors. The exhibition celebrates erotic encounters with nature whilst contrasting moments of confidence and fragility, growth and decay, lightness and dark. Images of unwieldy personalities branch, grow and take up space, yet are also at points, controlled. Queen Green is an extension of the artist's practice, depicting powerful, fluid forms, expanding on her interest in power play, theatricality and moments of flux. 
The exhibition explores the concept of the word 'Viriditas', used by German Benedictine Abbess, writer, composer and mystic Hildegard von Bingen in the Middle Ages. 'Viriditas' means greenness, freshness, vitality, fecundity, fruitfulness, verdure, or growth and was used by Hildegard to describe divine nature in relation to the human spirit and the natural world. Hildegard's illustrated religious visions, choral music and her rare recorded words have served as an inspiration. Echoing the artist's surname Green, the exhibition asks the audience to consider who the works in Queen Green portray: the natural world and it's unwieldy, grandiose, regal forms, or the artist herself and her subjective fantasy world?
Imagery in the works is informed by the locations visited by the artist during her residency. Natural leaf, seed, tree and cloud forms contrast with unnatural objects seen around Dalby Forest such as solar panels, wind turbines and the dots of colour on route maps. Colours reflect the changing autumnal scenes unfolding in the forest, contrasting with the bright colours of mountain bikes and cycle clothing. 
About
Susie Green (b.1979) works across painting, performance and sculpture, focussing on empowerment through dress, fetish & disguise. At the heart of her work is an exploration into the personal and political powers of intimacy, vulnerability and transgression.
Queen Green is supported by Crescent Arts, Scarborough Museums Trust, Arts Council England, Forestry England Dalby Forest and Woodend Creative Space.
Tap with two fingers to activate / deactivate this map
The Courtyard, Dalby Forest Dr Low Dalby, Pickering, YO18 7LT