Textile Hand Puppets with Imogen Sophia
Artist Imogen Sophia will be teaching us how to design our own character and bring it to life as as a textile hand puppet.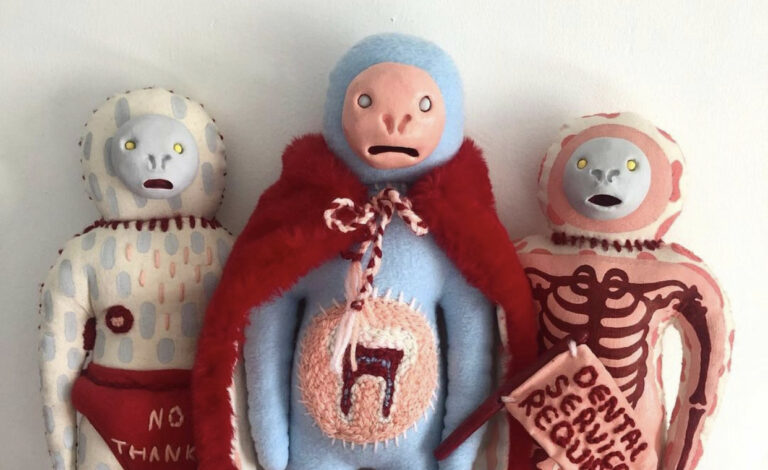 Where: Conference Room, Woodend Creative Space, Scarborough, YO11 2PW
When: Sat, 21 August 2021, 11:00 – 16:00 BST
£25 Full Price, £10 concession, there are also a series of free tickets available.
"The world can be a hard and dark place so it is my personal mission to make it a little fluffier and brighter.
To me – comfort, joy and childlike wonder are of the utmost importance and I express this in my work through colour, texture, shape and character. I want to make the world around me soft and squishy because that's how it is in my dreams. "
Materials: All will be provided
In this upcoming full day workshop artist Imogen Sophia will be teaching us how to design our own character and bring it to life as a textile hand puppet. We will spend the day drawing and hand stitching so bring your sketchbooks, pens/paints/pencils and fabric scraps you might like to use and we'll provide the rest. This is going to be a really fun day so don't miss out!
Who is it for: All abilities welcome, you do not need to have any skills in sewing or textiles, all will be taught to you. We recommend those attending are 18 or above.
Artist Bio: Imogen Sophia is a contemporary textile artist who primarily designs otherworldly characters and brings them to life as soft sculptures, plush toys and costumes. Alongside this work she also focuses on work based around feminist, gender positive, body positive and anatomical themes. https://www.imogensophia.com
This workshop is part of the programme for the current exhibition at Woodend Art Gallery 'A Sudden Movement', which features the work of ten emerging artists. We have a series of workshops, led by practitioners who are previous alumni's of the same course for more information about the exhibition and opening times follow this link: https://www.crescentarts.co.uk/whats_on/a-sudden-movement/ 
Covid Safety
We will be in a large room, limiting numbers and following social distancing, with hand sanitiser available. Although masks are not mandatory, we advise participants to wear them when indoors. Please do not attend if you have symptoms of coronavirus or you have been in contact with someone with coronavirus. If you need to cancel for this reason, you will be refunded.
To purchase tickets to this event, click here!