WORKSHOP // life drawing and writing with JJ Cruickshank
Responding to Kate Genever's window installation with mental health advocate, theatre maker and multidisciplinary creative JJ Cruickshank.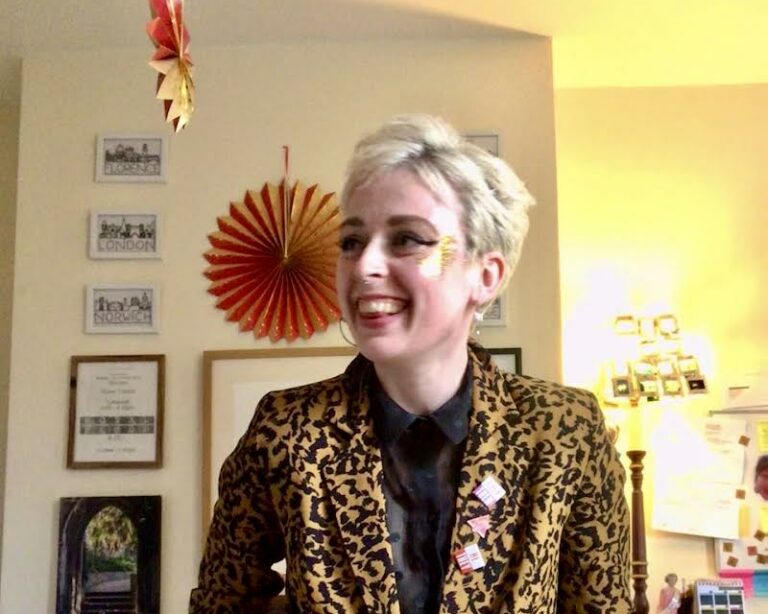 When: Wednesday 1st March, 6.30pm-8.30pm
Where: Woodend Gallery, The Crescent Scarborough YO11 2PW
Description:
Chiaroscuro (artistic definition): a strong contrast between light and dark.
In JJ Cruickshank's session, they will be exploring the contrast of dark and light in our own lives using their personal journey. They will share their practice as a mental health advocate, theatre maker and multidisciplinary creative, accessible simple steps to explore through writing and art.
This is not a classic life drawing session. We are describing it as alternative. In this workshop participants will have an opportunity to write, explore colour, light and shades, and use projection and multilayering.
JJ Cruickshank (he/they) is a trans masc non-binary creative, writer, producer, performer, facilitator and Artistic Director of emerging Yorkshire-based LGBTQIA+ theatre company, (Not) Forever Yone. JJ is an associate artist for ARCADE and Grimm and Co., teaches at Leeds Conservatoire and delivers creative gender identity workshops with (Not) Forever Yone most recently at Leeds Playhouse. JJ trained at ALRA on Foundation Acting and The Royal Central School of Speech and Drama on BA: Acting. Last year JJ was awarded the Queer Change Artist Bursary by Milk Presents, Homotopia and Curious Arts culminating in JJ's play How to be a HOT MESS performing at Northern Stage.
JJ is currently developing their first play about trans experience and the mess of your twenties, How to be a HOT MESS, which recently R&Ded at Leeds Playhouse with the support of Jamie Fletcher (Hedwig and the Angry Inch, Leeds Playhouse), preparing for a 2023 Northern focussed tour. In January 2023, JJ will be leading Spoken Word Power with ARCADE and North Yorkshire Literacy Trust, teaching and empowering primary school children to create their own spoken word pieces, poetry and slam poetry leading to a regional slam at Stephen Joseph Theatre.
Supplies: All supplies will be provided, but do feel free to bring your own if you would like. There will be a kettle for refreshments.
Event Programme: This event is in response to our current exhibition We Are Our Own promised Land. a vibrant and unique window installation by artist Kate Genever. 
To see the other events as part of this programme click here
Accessibility: The Woodend venue is wheelchair accessible, with an accessible bathroom and changing facilities. Download our woodend gallery accessibility guide: https://bit.ly/3NyP5td 
Please email Martha@crescentarts.co.uk if you need more specific access information.
Covid Updates: Masks are still recommended to wear unless exempt, social distancing and regular hand sanitizing are both still strongly advised. For more information view our full Covid update here
Tap with two fingers to activate / deactivate this map
Woodend Gallery, The Crescent, Scarborough, YO11 2PW