The Queer Infoshop: QUEER GALLERY PICNIC!
Come join us on Sunday 23rd of October for our queer community picnic!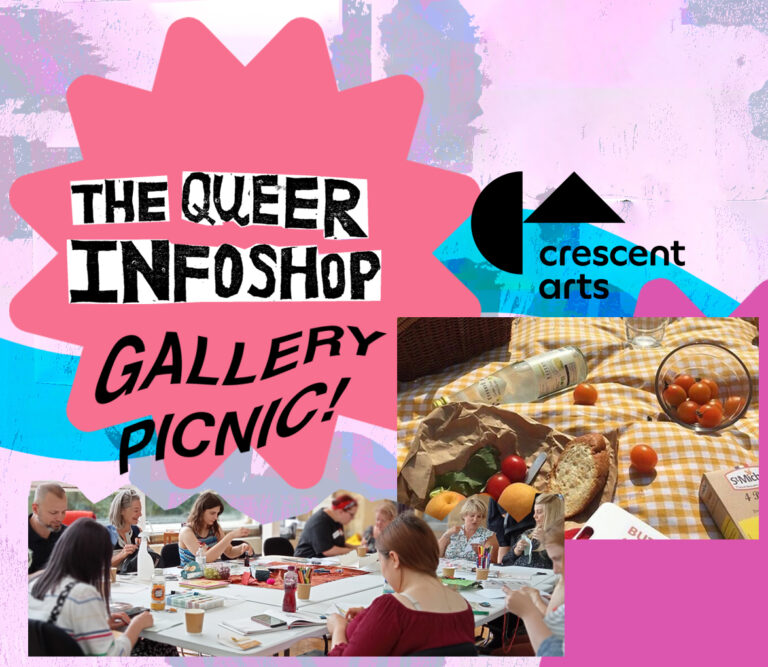 Where: Woodend Gallery, Scarborough, YO11 2PW
When: Sunday 23rd October, 1-3 PM
Free Entry // Drop-in
You're all warmly welcome to come to join us at our queer community picnic situated inside the Woodend Gallery, from 1-3 we're going to be situated within the Woodend gallery which has become an indoor-outdoor space alongside the new exhibition 'dear plants…'
The picnic, also happening alongside the exhibition at Woodend Gallery is also partly in response to the idea of creating an outdoor space indoors. The Woodend Gallery is now playing host to a brand new series of works from the students at Blueberry Academy… over the past couple of months, we've been working closely with the students alongside artist and gardener Meg Woodward-Hay in producing an exciting body of work directly made and influenced from our shared community Garden! Click here to learn more about the exhibition….
As well as being a safe space to connect, relax and have fun. It is also an exciting chance to see Woodend gallery and the exhibition in more detail. The event is totally free but donations are welcomed to help support Crescent Arts and the work that we do. 
Everyone is encouraged to share food, but it is not mandatory!  
Please bring:
Any food or drinks (with allergy and VG/V/GF information) 

Blanket/cushions

Cutlery

Plates

Yourselves!
ALLERGY INFORMATION 
Everyone may bring up to a maximum of 3 dishes, unfortunately, due to allergy concerns we politely ask you to not make any dishes with nuts. All dishes must have warning labels for gluten-free foods, vegan and vegetarian. And must also acknowledge any allergy information. 
Also on in the day…
From 4:30 onwards we will be having an exclusive viewing of Derek Jarman's 'The Garden' with an introduction from artist and curator Martha Cattell. 
Access
The venue is wheelchair accessible, with an accessible bathroom and changing facilities. For more information about the venue head to the Woodend website: https://www.woodendcreative.co.uk  Large print captions are available from the front desk at Woodend, and download our accessible document about the space: https://bit.ly/3OlFuqE
Email Martha with any further questions: curator@crescentarts.co.uk
Covid Updates:
Masks are still recommended to wear unless exempt, social distancing and regular hand sanitizing are both still strongly advised. For more information view our full Covid update here.
Tap with two fingers to activate / deactivate this map
Woodend Gallery, Scarborough, North Yorkshire, YO11 2PW