EXHIBITION: Hothouse
We are excited to launch two new exhibitions at the Woodend Gallery featuring emerging artists from Scarborough...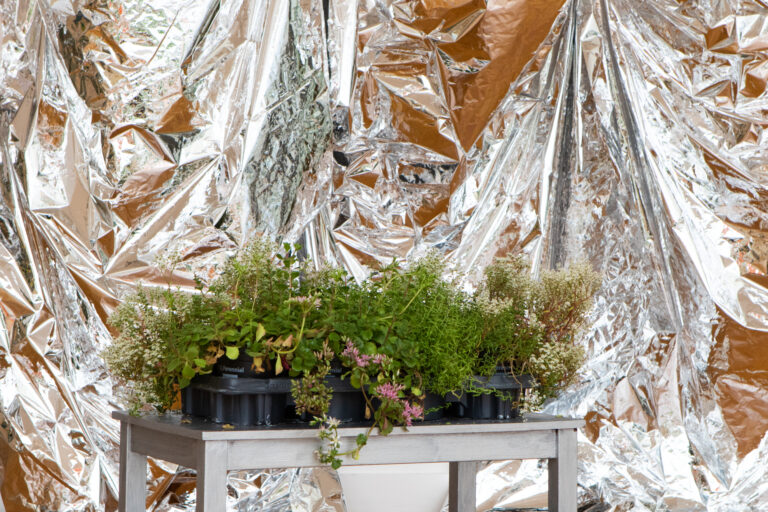 Exhibition: Hothouse
When: July 1, 2022 – September 11, 2022
Where: Woodend Gallery, The Crescent, Scarborough, YO11 2PW
Opening Times: Tuesday to Friday, 10am to 5pm and Saturday, Sunday, 10am to 4pm. 
Free Entry | Wheelchair accessible 
The main Woodend Gallery space will debut a series of works created collaboratively between a group of current Sixth Form Art students; Mary Adams, Monika Kowalczyk, Emily Ford, Rijana Generoso, Millie Mason, Nina Flood, Scarlett O'Connor and artist Kate Genever. The artworks are a product of experimental art workshops, in which the students were encouraged to explore all aspects of the art-making processes, from the work itself to its interpretation. 
Focusing on the theme of movement due to the transitory phases of their studies, Kate has commented that the project:
"I thought about the glass gallery where we will be working and how it is a kind of hot house, where natural history objects and stuffed animals were displayed, which seems ironic, given they are dead and unable to move. Dead also in a collected sense, unable to carry on with life, where they would be cared for, repaired, lost. "Hothousing" is a term used in education, and I think of it as forcing – like rhubarb in the dark. It is here I start, with notions of growth, change and transformation. Determined to make, alongside students, work that is neither forced nor dead, but rather catalysts for their next step".
Artist Bio
Kate Genever is an artist and farmer, based in South Lincolnshire. Active since 1994, she completed a Foundation at Lincoln School of Art, then a BA Hons in Fine Art at Stoke. Kate started teaching at Lincoln School of Art the following year, which developed into further work, both there and at other institutions. Meanwhile, she freelanced, delivering workshops and commissions for different organisations. In 2008, Kate embarked on an MA in Fine Art Printmaking at the Royal College of Art. 
Describing herself as both a "mentor and educator", Kate works in print, text, drawing, paint, mixed media and installation to explore the close relationship between people and place: "Be it in villages, refuges, caravan parks, lockdown… I build deep connections with people in the celebration and support of site-specific responses, DIY architectures and community actions". Collaboration and improvisation are also key elements of her work, along with an objective to challenge perspectives, encourage reflection and inspire action.
Click here to download the accompanying exhibition text.
Scarborough Sixth Form: https://s6f.org.uk 
The Project Space
The Project Space will become a new experimental drop-in workspace to explore, test and play with new ideas and themes. The Space will also play host to a selection of works by last year's Scarborough Sixth Form Art Foundation alumni, exhibiting their works one year on after 'A Sudden Movement' which ran through summer 2021. This year it includes works from Dylan Jacomb, Rio Crossley, Georgia High and Tom Lay, and the show will allow audiences to see how their work has developed and changed across the last year. 
The space is furnished with a sofa, open access activities and places to meet, create and network.

Access
The venue is wheelchair accessible, with an accessible bathroom and changing facilities. For more information about the venue head to the Woodend website: https://www.woodendcreative.co.uk  Large print captions are available from the front desk at Woodend, and download our accessible document about the space: https://bit.ly/3OlFuqE
Email Martha with any further questions: curator@crescentarts.co.uk
Covid Updates:
Masks are still recommended to wear unless exempt, social distancing and regular hand sanitizing are both still strongly advised. For more information view our full Covid update here.
The Artists
Dylan Jacomb, Rio Crossley, Georgia High, Tom Lay
Exhibition Opening
Crescent Arts is pleased to invite you to the opening of the exhibition on Thursday 30th June, 6-8pm, Woodend Art Gallery, refreshments and live DJ set, FREE and open to all, more information: https://bit.ly/3xSuDNN 
This project is supported by Scarborough Borough Council, Scarborough Museums and Galleries and Arts Council England
Image Credit: Simon Heaton 

















Tap with two fingers to activate / deactivate this map
Woodend Gallery, The Crescent, Scarborough, YO11 2PW