THE QUEER INFOSHOP
Over the 25th and the 26th of June the Woodend Gallery will transform into the Queer Infoshop, an open-access multi-activity space to make, share ideas, connect and relax...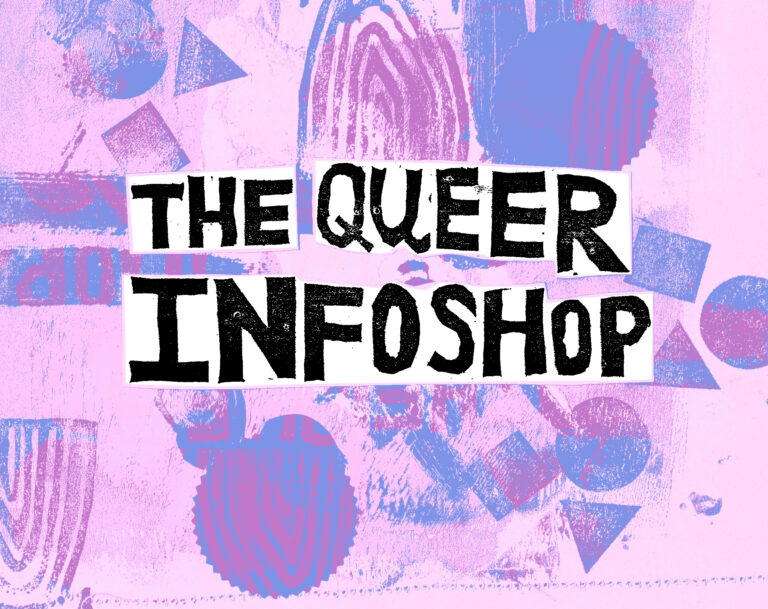 When: Saturday 25th June – Sunday 26th June 2022, 10.00am-4pm (7pm Saturday)
Where: Woodend Gallery, The Crescent, Scarborough, YO11 2PW
Free Events, All ages are welcome.
About
The Queer Infoshop is a stand alone, self managed, pop up radical community space, accessible for all ages and all members of the queer community. A space to get involved in a wide range of diverse workshops, or a space for queer individuals to meet, share and exchange ideas, or even just to relax! 
We want to begin an open and honest queer dialouge in Scarborough that's severely lacking in opportunities for LGBTQ+ folk of all ages. To appeal to all ages, we've programmed three workshops of a stripped back DIY nature so anyone at any skill level can come along.
So what is an infoshop?
"Infoshops are places in which people can access anarchist or autonomist ideas. They are often stand-alone projects, or can form part of a larger radical bookshop, archive, self-managed social centre or community centre. Typically, infoshops offer flyers, posters, zines, pamphlets and books for sale or donation. Other items such as badges, locally produced artworks and T-shirts are also often available. Infoshops can also provide printing and copying facilities for people to produce their own literature or have a meeting space."
Events and open-access activities
SATURDAY 25TH JUNE
10-11:30: QUIET HOURS
12-2PM: WORKSHOP: Cross Stitch With Hayley Mills-Styles
5-7PM: VISIONS IN VELVET: Your Ideals For a Queer Scarborough
SUNDAY 26TH JUNE
10-11:30: QUIET HOURS
12-2PM: QUEER ZINE AND BADGE MAKING WITH SCARBOROUGH ZINE LIBRARY
Accessibility
We want to make sure everyone is welcome and comfortable in the space, so between 10:00 and 11:30 each day we will have Quiet Hours for neurodivergent guests to the space.
The Woodend venue is wheelchair accessible, with an accessible bathroom and changing facilities. Download our Woodend gallery accessibility guide here: https://bit.ly/3NyP5td 
For more information about the venue head to the Woodend website here. The parade route features unstable ground, so please get in touch with Martha if more information needed and our adapted route: curator@crescentarts.co.uk 
Tap with two fingers to activate / deactivate this map
Woodend Gallery, The Crescent, Scarborough, YO11 2PW